News
SCHREINER SERVICES ROLLS OUT RFID-ENABLED ROAD-MAINTENANCE SOLUTION
time: 2015-12-21 14:55
Schreiner Services has announced a new system designed to be installed on a car or other motor vehicle, in order to read UHF RFID transponders embedded in roadways.
The transponders are integrated into nonwoven geotextile fabric provided by Provlies, an Austrian company that specializes in providing solutions for the construction and maintenance of roads.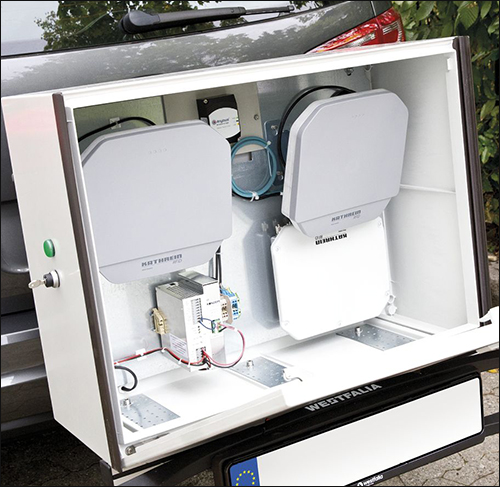 Schreiner Services' system incorporates a Kathrein RFID reader and two Kathrein antennas
Provlies' material has elasticity that, when it is fitted into cracked roads, helps delay future damage, according to Schreiner Services. Ultrahigh-frequency (UHF) RFID tags integrated into the material are embedded at least 4 centimeters (1.6 inches) under the asphalt or concrete surface and offer the road-maintenance provider continuous, contactless communication with the road network. The tags are linked with software applications, such as digital maps, automatic traffic count, construction journals, sewer network maps and weather information. In addition, software modules for condition assessment, construction or construction supervision can be integrated with the tags.
When mounted on a vehicle, Schreiner Services' solution can read the tags' recorded data at speeds of up to 60 kilometers per hour (37.3 miles per hour), the company reports, so that communities and road-maintenance companies can access relevant operational data without major effort. The information is read via several antennas and readers supplied byKathrein RFID that fit into a weather-resistant box mounted to a vehicle's trailer hitch. The data that the reader collects is radio-transmitted to a computer inside the vehicle, Schreiner Services explains. The collected information offers road-maintenance service providers a detailed overview of the road's condition, thereby helping to increase the reconstructed roads' service life. According to Schreiner Services, this helps to reduce costs and guarantees sustainable road construction.
In 2012, Provlies (then known as Polyfilld) unveiled an older version of its RFID-enabled material that could be read using high-frequency (HF) RFID interrogators installed on the back of vehicles as they pass by at a speed of about 40 kilometers (25 miles) per hour (see Polyfilld's RFID Solution Helps Roads Talk to Inspectors