News
SAG, ST DELIVER TINY NFC TAG FOR IOT APPLICATIONS
time: 2016-06-06 11:19
Semiconductor company STMicroelectronics and Securitag Assembly Group (SAG), a supplier of RFID transponders, have announced a tiny Near Field Communication (NFC) tag that uses STMicroelectronics' ST25 NFC tag IC designed for Internet of Things (IoT) data-transmission applications, especially in consumer electronics, wearable devices and smart health-care products. The NFC Ferrite Tag (0503), made with sintered ferrite antenna, measures just 4.9 millimeters by 3.0 millimeters by 2.5 millimeters (0.2 inch by 0.12 inch by 0.1 inch)—which, the companies say, makes it suitable for wearable products, for which compactness is critical.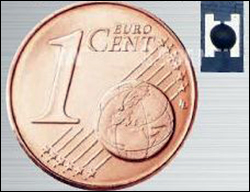 An NFC Ferrite Tag (0503)
The NFC Ferrite Tag can be surface-mounted during production through the metal pad that can be directly soldered to the PCB surface. The tag can function when placed on metal products, according to the two companies, due to its anti-metallic interference characteristics. ST's ST25TA02K NFC Forum Type 4 tag IC supports the NFC Data Exchange Format (NDEF), so the NDEF data can be directly executed via an Android NFC smartphone without any dedicated application software. In addition to NDEF support, the ST25TA02K features a 20-bit counter and a 128-bit password to protect read-write access to the 2 kilobits of EEPROM memory.
The two companies report that they will collaborate to meet the growing NFC demand that is expected to drive new IoT and wireless applications for smart home, health-care, city and factory environments. With ST's global reach and semiconductor leadership, combined with SAG's professional manufacturing of RFID tags, the partners say they aim to accelerate innovation and new product development in order to strengthen the competitiveness of their customers' final products.
Samples of the NFC Ferrite Tag are available at SAG's website. Samples of ST's ST25TA02K NFC Tag IC are available at STMicroelectronics' site.