News
HID GLOBAL RELEASES TAPMARK SURFACE-MOUNT TRANSPONDERS
time: 2016-07-18 17:12
HID Global has introduced TapMark, a new family of slim ultrahigh-frequency (UHF) transponders complying with the EPC Gen 2 and ISO 18000-6C standards. TapMark tags are designed for surface-mount applications, according to the company, including furniture, office equipment or thousands of IT assets ranging from personal computers to a complex data center.
The tags are made with Impinj's Monza R6 chip, which offers 96 bits of read-write Electronic Product Code (EPC) memory delivering read rates up to three times faster than those of previous generation tags, according to HID Global. In addition, HID Global reports, the Monza R6's TagFocus feature improves read reliability, especially when large, dense populations of tags are present, and its AutoTune functionality compensates for changing environmental conditions to retain optimal performance. The transponders' read range is up to 9.8 feet (3 meters).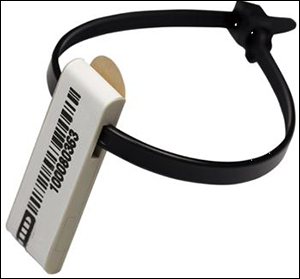 HID Global's TapMark tag
The small, thin-profile TapMark transponders are available with a variety of mounting options—including zip-ties, industrial adhesives, magnets and screws—for affixing to any surface, including metal, the company says. Two types of high-bond stickers are available to attach the tag to flat or uneven surfaces with excellent durability, the firm reports. A special antenna design allows the tag to be affixed via a metallic screw right through the middle of the tag, for optimal fit without affecting tag performance. Measurements range from 1.5 inch by 0.5 inch by 0.2 inch (38 millimeters by 13 millimeters by 4.3 millimeters) for the zip-tie, screw-mount or adhesive version to 1.5 inch by 0.5 inch by 0.25 inch (38 millimeters by 13 millimeters by 6.0 millimeters) for the magnet-mount tag.
HID Global TapMark tags may be ordered personalized with custom encoding, printed logos, Bar-/QR-code or text and alternative colors.