News
Spectech Brings RFID Kanban System for Aerospace to the United States
time: 2015-07-16 16:12
The European company has opened an office in Seattle, and has also built a cloud-based solution and an iOS app that lets customers view inventory levels on their iPhone.
By Claire Swedberg
European aerospace service provider Spectech has been offering radio frequency identification functionality as part of its parts-management solution to European companies for the past nine years. This summer, the company is opening a new office in Seattle to better access new North American customers. In addition, it has moved its solution to the cloud and has introduced an iOS app that lets customers check inventory levels and receive alerts if parts are running low, via their iPhone.
Spectech is a division of Stag Aerospace, which provides aviation parts for aircraft manufacturing and maintenance services to aerospace companies worldwide, typically to original equipment manufacturers that deliver subassemblies to the large aircraft makers. Spectech serves its customers by ordering required parts, tracking inventory levels and reordering components as they are needed, in order to ensure that assembly lines don't shut down due to running out of a specific part. The Spectech service also includes data analytics that help businesses understand how quickly their parts inventories are being turned over, and thus how quickly they need to have replacement parts on hand. In addition, says Chris Osborne, the firm's operations director, Spectech offers RFID solutions that function as simple but effective kanban systems.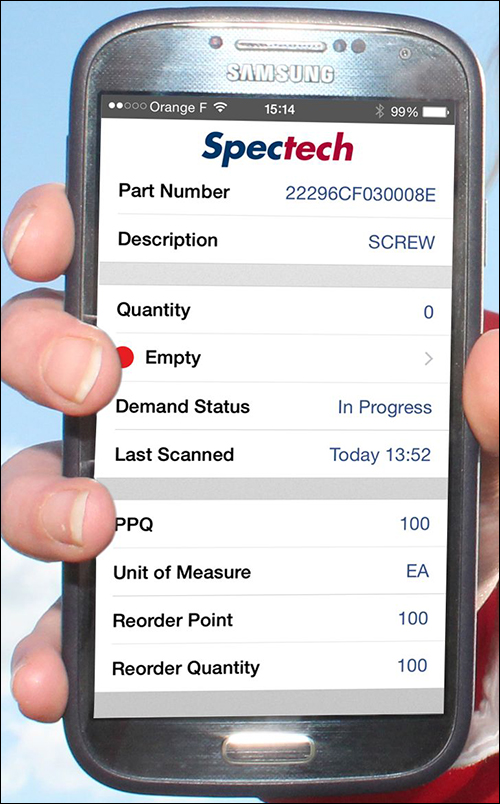 The Spectech app enables aircraft component makers to view their company's parts-inventory count in real time.
One of those RFID-based solutions is TagBin, which consists of a two-drawer cabinet in which parts for assembly or maintenance are stored, with a trap door between the bottom and top drawers, as well as an RFID tag attached to that trap door's pull lever. Users remove an item required for assembly from the bottom drawer. Once that drawer is empty, they can then pull the lever for the trap door, which releases the top drawer's contents into the lower one, to be used as needed. The tag on the lever is covered with a copper mesh shield, so that it cannot be read until that lever is pulled. Once that happens, the tag is exposed and a reader installed near the TagBin captures the tag ID number and forwards it to the Spectech software on the cloud-based server via a cabled connection. That ID updates the bin's status as needing replenishment, and an order is automatically placed to restock the appropriate contents.
Spectech also offers another RFID option for companies that assemble aircraft components—such as engines or ventilation systems—composed of numerous small parts that are stored within vertical carousels that may hold 1,000 bins or more. When a part is needed, a user rotates the carousel by pressing a keypad on the front of the machine, so that the desired parts bin appears at the front. Knowing how many parts are in each bin and when each will need replenishment requires considerable manual labor, Osborne says, but the machine's inventory can be checked in a matter of minutes by means of RFID.
Spectech installs a fixed reader somewhere inside the machine—often in the center, or on the side or front—which does not turn with the carousel. The company typically uses Alien Technology readers customized for the installation, and connected to the back-end server via a cable. Spectech also works with other RFID reader vendors, Osborne says, and is developing a wireless reader that could be installed in a storage carousel to send data back to the cloud-based server via a Wi-Fi connection. However, no release date has yet been set.
There are two RFID tags on each of the carousel's bins. One is located in the center to indicate the bin's unique ID number—and, thus, which parts should be loaded in it. The second is situated behind a shield in the back of the bin, so that its ID is captured only when most of the components have been removed, thereby indicating which parts must be replenished.
As the carousel turns, the bins circle past the reader and the bins' tags are interrogated, providing an update regarding replenishment requirements. Spectech software can then place orders, collect data for analytics and, if requested, issue alerts to authorized parties. With the app, certain individuals—such as the managers of an aircraft components manufacturer—can also view their company's parts-inventory count in real time.

Chris Osborne, Spectech's operations director
With either RFID solution—the storage carousel or the TagBin cabinet—the tags can also be read via a handheld unit if a customer prefers to save costs. In this case, Spectech typically uses Nordic ID readers, due to their durability. Spectech utilizes a wide variety of ultrahigh-frequency (UHF) tags supplied by multiple vendors.
Throughout the years that it has spent deploying RFID solutions, Osborne says, Spectech has learned from the challenges of the past related to RF transmission in the presence of metal and moving parts. The company has modified the locations of tags and readers, and has also experimented with shielding to create the solutions it currently offers that not only read tags effectively within a carousel or cabinet, but also avoid receiving stray reads from tagged bins in other cabinets or carousels that may be located nearby. None of Spectech's customers that employ RFID technology were willing to speak to RFID Journal about their deployments.
Some of Spectech's customers still opt to use bar codes, since they are unable to achieve effective RFID reads within their particular environments (some carousels' bin-retrieval mechanisms and slides can interfere with RF transmission). For those who do deploy the RFID kanban system, however, Spectech is able to provide replenishment services more reliably and quickly, in order to ensure that parts never run out, which could potentially cause an assembly line to temporarily shut down.
The company expects to offer more RFID-based solutions in the future for the aerospace industry, in which Osborne sees as having an underrepresentation of RFID technology. Spectech's current offering, he says, "just scratches the surface of what RFID could do for aerospace." He adds that, with its new location in the United States, his company expects to increase its clientele for its RFID-based functionality—and for its parts-management solutions.