News
U.K. Construction Company Collects Inspection Data Onsite With NFC
time: 2015-07-24 16:29
The McGee Group is using NFC RFID technology and apps from Mobilengine to ensure that its trucks are properly inspected, as well as track tool usage and inspection and worker training at demolition or construction sites.
By Claire Swedberg
U.K. construction company McGee Group has traditionally used manual pen-and-paper-based processes for more than 100 different applications at its worksites—from ensuring that onsite personnel have the proper training to inspecting tools and trucks. The firm is now digitizing many of these processes thanks to apps from Mobilengine, which are built on an application platform of the same name, as well as Near Field Communication (NFC) technology.
McGee Group, a midsize construction and engineering contractor, provides demolition, building and other services, typically at 20 to 25 sites at a time. Its garage houses more than three dozen 32-ton tipper (dump) trucks that travel to the job sites to pick up or deliver material.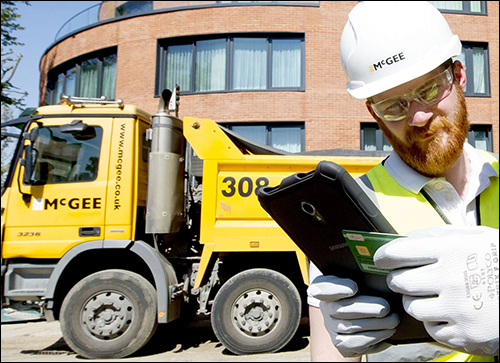 To ensure that personnel have sufficient skills for a specific construction site, McGee managers can use a Nexus 7 tablet to read the NFC chip embedded in a worker's CSCS card and access that individual's training history. When performing a safety inspection of a tipper truck (shown in the background), a driver can document the process by using the Nexus 7 to read NFC RFID tags attached to various parts of the vehicle.
Michael Kelly, McGee Group's head of IT and communication, says he began working with Mobilengine several years ago to develop applications to digitize the collection of data on worksites, and to then access that information. Last year, McGee adopted an NFC-based solution that allows McGee truck operators to collect and upload data regarding inspections by tapping an NFC-enabled tablet against a tag. That information enables the company to verify that inspections were conducted, and to view the results of those inspections.
In the past, McGee relied on its drivers to conduct inspections before they took their trucks onto the road, having them walk around their vehicles and conduct a visual inspection in order to make sure there were no loose parts, bald tires, broken mirrors or turn signals. They recorded the results in small booklets. However, management lacked access to those booklets while the trucks were being operated. Furthermore, the company was unable to ensure that a driver actually exited his truck and conducted every inspection, rather than simply checking off information within the booklet. In addition, if a driver discovered a problem with his vehicle, he would have to report it to the office via a phone call, which typically led to a series of additional calls and e-mails before the appropriate maintenance worker could be sent onsite.
To use the Mobilengine app, drivers are provided with a Nexus 7 tablet with a built-in NFC 13.56 MHz reader. McGee uses branded NFC RFID stickers (Mobilengine provides a variety of off-the-shelf RFID tags to make those stickers, according to Adam Dalnoki, Mobilengine's CEO). The stickers are applied to sections of a truck in which inspections are required, such as under the engine hood or at the rear near the lights. If the driver notices a problem, such as a non-working brake light or a worn tire, he can read the tag first to pinpoint the location of the trouble, and then enter a description.
Once the inspection is complete, the worker provides an electronic signature and taps the tablet against a final NFC sticker on the windshield, and all inspection data is forwarded to Mobilengine software on its server within a matter of seconds, via a Wi-Fi connection. The Mobilengine software collects and interprets the data, then forwards it to McGee's own content-management software, which puts the data into a PDF format for record-management purposes. Managers can view the information in real time to know which vehicles have been taken out of the yard, based on when inspection reports were completed, as well as who inspected them and when this occurred. The Mobilengine software can also issue an alert, such as an e-mail, to authorized parties if there is a problem with a vehicle that needs to be addressed right away.
Additionally, the McGee Group can easily provide inspection records to regulatory bodies if requested. This has become especially important in recent months, Kelly says, due to efforts by the U.K. government and the road transportation industry to prevent bicycle fatalities caused by construction vehicles.
"The NFC [system] gives us knowledge that every vehicle is leaving in the right condition," Kelly explains, "so we know it's roadworthy."
But the vehicle inspection is just the tip of the iceberg for what NFC technology can offer the company, Kelly says. For instance, the firm is now attaching RFID tags to tools used on worksites. The tags can be read when tools are being loaned out, as well as when they are being inspected, which is typically required at least once a month. By interrogating a tag, a worker can also view that tool's maintenance history. What's more, the software can display how many specific types of tools have been loaned out onsite, and to whom.

McGee Group's Michael Kelly
The company has also begun using the technology to identify who is on a particular worksite at any given time, along with what training each individual has completed, thereby ensuring that no one with insufficient training is admitted to a specific site. Workers present their Construction Skills Certification Scheme (CSCS) cards—which have been provided to 1.9 million qualified construction workers throughout the United Kingdom—to a manager onsite, who then reads the NFC chip embedded in each card using the NFC reader in his tablet. Each card's unique ID number links to that employee's name and training history. In that way, McGee can ensure that no one with a bogus card or improper experience is allowed onsite, while also collecting a list of those who have reported to work.
The technology could be used similarly for daily safety training sessions regarding potentially hazardous work ahead. For instance, when employees are about to conduct work around a deep hole, they could report to the training session. Their NFC-enabled ID cards—or NFC stickers on their helmets—could be read by the supervisor, and a record would be stored regarding that session. The system helps to ensure that workers in a dangerous area are always properly trained, while also providing a record of each employee's training history, for use in the event that an accident does occur.
In addition, McGee is testing NFC tags at "fire points," where fire-extinguishing equipment is stored. By reading the tags attached to equipment, staff members can ensure that the extinguishers and other equipment have been inspected, and they can also make sure that nothing is missing by comparing what they see at the fire point with the items listed in the Mobilengine app. The company intends to tag its lifting equipment as well, such as chains and hoists.
When Mobilengine began working with McGee, Dalnoki says, it identified more than 100 use cases for NFC technology for processes that had been historically paper-based. "Mobilengine is a platform," he explains, on which other technology and solutions can be built, such as workflow management of inventory tracking, or inspections using NFC, RFID, bar codes or QR codes, as well as pictures.
Approximately 80 percent of Mobilengine's customers prefer data to be collected on the app company's cloud-based server, while the others, like McGee, store data in their own content-management system on their own server.