News
Flexstr8 Offers NFC-Enabled Labels for Hazardous Chemicals, Consumer Products
time: 2015-08-12 15:37
The startup's NFC Smart Label solution is being trialed by companies to track goods, pharmaceuticals, and maintenance and service for industrial equipment.
By Claire Swedberg
Flexstr8, a smart-label startup based in El Segundo, Calif., has released a Near Field Communication (NFC)-enabled labeling solution for on-demand printing of labels that link NFC readers to data about the labeled products. More than a month ago, the firm launched a solution geared toward consumer products, and last week it released a new, more durable version of its labels (made with Neenah Paper's Kimdura UV inkjet-printable synthetic paper) that can be used in hazardous environments, targeting chemical companies and laboratories. Flexstr8 reports that such businesses can employ the Kimdura label to meet the international Globally Harmonized System of Classification and Labeling of Chemicals (GHS) requirements for labeling hazardous chemicals. Several consumer product companies, pharmaceutical firms and labs are currently testing the new labels.
In June of this year, the Occupational Safety and Health Administration (OSHA) updated the U.S. requirements for the labeling of hazardous chemicals, in accord with the GHS, to require a product identifier, supplier information, a hazard and precautionary statement, and other details to be available regarding each chemical product. Companies that sell such hazardous chemicals must not only print a large amount of information on a label attached to each product's container, but also provide an application sheet to users of that chemical. The application sheet includes directions indicating how to handle and store the product, personal protection requirements, accidental release measures and other precautions.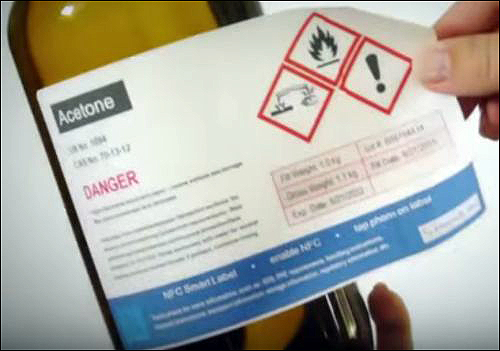 Flexstr8's NFC RFID labels are made of Neenah Paper's durable Kimdura UV printable synthetic paper.
The Flextr8 NFC Smart Label Solution was released last week to provide a solution by which individuals could use an NFC-enabled smartphone to access a cloud-based database in order to view the chemical-related data normally found on a product's label and application sheet, as required by the GHS and OHSA rules.
Ralph Roessler
Flexstr8 is providing free samples of its smart labels preprogrammed with unique identifiers and data packages for end users, such as those that wish to track chemicals. The full solution would enable customers to print and encode their own labels onsite.
The full NFC Smart Label Solution consists of highly durable NFC labels made of Kimdura UV synthetic paper, an Epson TMC3500 printer, and a Flexstr8 clip-on RFID encoder, as well as Flexstr8 NFC Smart Label Solution software that synchronizes label encoding and printing. The software allows users to utilize the clip-on encoding device to encode the printed label's built-in NXP Semiconductors NTAG203 RFID chip with the user's own desired data, such as a URL that will connect the NFC-enabled device to appropriate information about that product.
Kimdura UV is a plastic (bi-axially oriented polypropylene) material designed to be compatible with many common printing methods used in the labeling industry. Additionally, Kimdura UV is engineered to be weatherproof and resistant to chemicals and tears—a feature that is critical to the hazardous chemical industry, according to Eric Pun Casavant, Flextr8's engineer and VP of product development. The Flexstr8 labels, says Ralph Roessler, the company's president, can sustain chemical spills and immersion in water even after being printed. The clip-on encoder, manufactured by Flexstr8, comes with a USB connection and attaches to the front of the Epson printer. The Flextr8 software then manages both the printing and encoding functionality from a PC or laptop connected to the printer.
Companies that are now ordering the samples for the GHS solution include chemical and pharmaceutical manufacturers, in addition to firms with laboratories in which the chemicals are used. Most of the early interest has come from outside of the United States, Roessler says, where businesses seem to have more familiarity with NFC technology.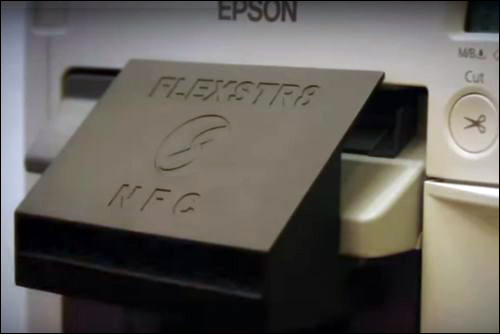 The Flexstr8 clip-on RFID encoder, powered by a USB connection, attaches to the front of an Epson TMC3500 printer.
According to Roessler, many pharmaceutical and chemical firms are using ultrahigh-frequency (UHF) EPC passive RFID tags for inventory management. "They tend to use the RFID guns to read the tags," he explains. "We wanted to make that simpler," by allowing individuals to capture data via their NFC-enabled phone or tablet (including most modern Android devices, though to date, open NFC functionality is not available in iOS phones or tablets).

Eric Pun Casavant
Users do not require an app to utilize the NFC function in the labels. When a user places an NFC-enabled phone within close range of the label, the handset's Web browser opens a URL to a server hosted by the company that applies the label. He or she can then simply view data on his or her phone's screen, or download a PDF or other file that could include more specific information—such as a training manual, an operator's manual, or the labeled product's use history.
Since the label is being employed internationally, Flextr8 has created an Android-based app and multilingual Web service for use in places like Europe, where a label may pass through multiple countries. Once the app is downloaded on the phone, Casavant says, the service can automatically determine the country in which the phone is located, and thus direct the phone to data on a company's server specific to that nation's rules and regulations, and in that country's language.
Flexstr8 is providing its product to distribution representatives in such locations as Taiwan, Korea, Australia and parts of Africa, as well as in Europe and the United States. It also sells the solution directly to chemical and drug manufacturers and other types of companies. One firm that is testing the technology is a pharmaceutical business that intends to tag each of its drug products and then track their location and authenticity via mobile phones. In another application, a global equipment manufacturer is applying a label to each critical part on a large piece of equipment for use by individuals who repair, maintain or inspect that equipment. In that case, the workers utilize an NFC-enabled phone to access a manual explaining how each part of the equipment works and how it should be maintained.
The company has been selling its smart label products for approximately one month. Flexstr8 has also begun offering free rugged NFC smart label samples for about a week. A startup kit that includes the clip-on encoder, software and 500 NFC smart labels sells at a retail price of $1,199, while those purchasing the device could either use their existing Epson industrial label printer or purchase one from Epson. They would then simply buy the Flexstr8 software and smart labels to be encoded. Flexstr8 also offers an NFC printing and encoding service for those who do not want the print-on-demand function.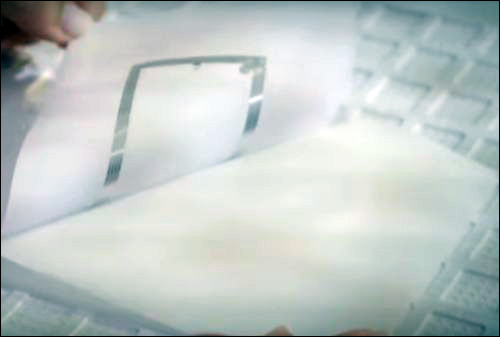 The back of each Flexstr8 label has an NFC RFID inlay made with an NXP NTAG203 RFID chip.
In Africa, a beer brewery is testing the labels for use on smart poster advertisements. Multiple companies throughout Taiwan, meanwhile, are using or purchasing the labels for marketing purposes on a variety of products.
Within the next few months, the company intends to release the solution with greater functionality, including a label that features built-in sensors such as those for measuring temperature, as well as more user memory than the 144 bytes available with the existing label's NTAG 203 chip, in order to store sensor data. According to Flexstr8, the labels would be designed and priced to be disposable.