News
TRIMBLE INTRODUCES HIGH-PERFORMANCE USB UHF RFID READER
time: 2016-02-24 08:26
Trimble's ThingMagic division has announced the new ThingMagic USB ProRFID ultrahigh-frequency (UHF) reader, designed to allow solution developers to support applications that require desktop reading and writing of EPC Gen 2 RFID tags.
The new reader measures 97 millimeters by 61 millimeters by 25 millimeters (3.8 inches by 2.4 inches by 1.0 inch) and is designed for such applications as RFID tag programming stations, manufacturing work-in-process workstations, health-care patient-care check-in and checkout applications, document tracking, event and hospitality solutions, and retail point-of-sale.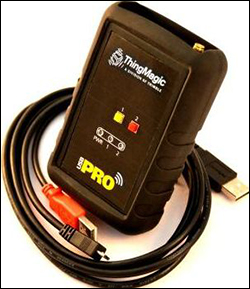 The ThingMagic USBPro RFID reader
Based on Trimble's Micro LTE UHF RFID module, the USBPro is controlled and powered by a host PC or laptop through a USB interface that can support autonomous operation. The device, which comes with its own integrated antenna and a port for an external antenna, offers a read range of up to 4 feet (1.2 meters) depending on tag sensitivity and orientation with the reader's internal antenna, and up to 20 feet (6.1 meters) with an external 6dBi linearly polarized wideband antenna, ThingMagic reports.
The new reader is compatible with ThingMagic application-development tools, including Universal Reader Assistant and Autonomous Configuration tools, and features instant read autonomous operation and a +30dBm TX power (maximum) with dual USB and power cable. It is backward-compatible with the ThingMagic USB Plus+ desktop reader, supports Android and MicrosoftWindows mobile platforms, and is configurable for worldwide UHF frequencies. In addition to being compatible with the RAIN RFID specifications (the EPC Gen 2 and ISO 18000-63 standards), USBPro is available with optional support for the ISO 18000-6B, ISO 18000-6D (IPx) and AEI ATA protocols.