News
Stauff Markets RFID-Based Hydraulic Pressure Measurement System
time: 2015-05-26 10:45
The solution consists of passive RFID-based sensors and handheld interrogators used to track hydraulic pressure changes in machinery prior to an equipment failure.
Measuring the pressure of hydraulic machinery or equipment in a factory or at an industrial site can be the best way to learn how well the machine or other equipment is operating. Excavators, lifting equipment and other types of hydraulic machinery, such as those used at mines or by the timber industry, often experience a change in hydraulic pressure prior to suffering a failure. Equipment operators and owners, however, find that detecting such pressure changes is not always easy. Analog or digital gauges provide measurements, but they can be difficult to access on the machinery and typically cannot transmit that information to the interested parties. In addition, storing a device's pressure-reading history on paper can be time-consuming.
Hydraulic testing equipment company Stauff has developed a tool that employs radio frequency identification to make the access and collection of pressure information easier. The company's PT-RF wireless testing system comes with a battery-free pressure sensor to transmit that data when interrogated by Stauff's low-frequency (LF) RFID reader.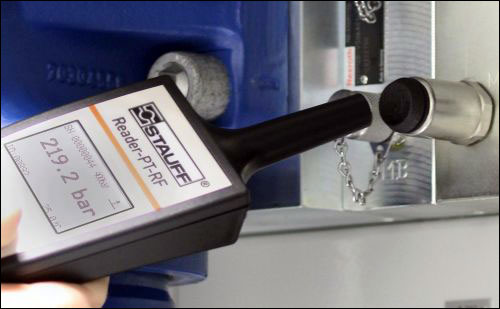 Stauff's PT-RF system features a passive RFID pressure sensor and a reader.
Measuring the system pressure is one of the most important and most frequently used methods for monitoring and controlling hydraulic machinery and equipment, according to Boris Mette, Stauff's head of marketing communications. "It is the prerequisite for reliable and economical operation," he says.
Some companies mandate that their equipment be constantly monitored, which typically requires a wired pressure sensor that can be accessed in real time by an operator or technician. This is a costly solution, however, and the constant reading scenario is not the use case that Stauff aims to target. Instead, the PT-RF is designed for intermittent readings.
In some cases, the measurements are taken a few times a day, or as seldom as a few times annually. Users of manual sensor systems must often unscrew and remove a pressure gauge in order to capture the necessary data, and then reinstall it. Since that creates a temporary opening of the hydraulic system, it can pose a potential hazard to individuals, machines and the environment. Oil in a test hose or at the measuring point can leak out, Mette says, while dirt can enter into the system, in a dusty environment.
With the PT-RF wireless testing system, the sensor (known as a pressure transmitter) is designed either to be built into a new piece of equipment by its manufacturer, or to be retrofitted in existing equipment by end users. It comes in five versions to cover different measuring ranges for hydraulics. Because it lacks a battery, it does not act as a data logger, but simply remains dormant until a handheld reader is brought within range. If the Stauff 125 kHz LF RFID reader comes within about a half-inch of the sensor tag's cap, the tag captures the energy from that interrogation, then uses it to perform a pressure measurement.
The tag then sends the measurement and its own unique ID number, via a proprietary air-interface protocol, back to the reader, again using power from the reader. In addition, it sends temperature data and a unique ID for that measurement, so that it will not be confused with any other measurement transmitted by that tag. If the user continues to press the interrogator's button, the tag will take repeated measurements, and the reader will display average pressure and temperature readings for this measurement period, as well as the minimum and maximum pressure readings.
The PT-RF pressure transmitter comes with a stainless steel housing and is typically screwed into the equipment, using any necessary adapters in the case of a retrofit.
Stauff makes its own reader with a large backlit LCD screen for viewing a sensor's measurement readings. The reader can store at least 15,000 measurement sets. That data can be stored on the device, and can later be uploaded to a back-end system via a USB connection.
Stauff's firmware on the handheld interprets and stores the data, while users can upload the information to a computer. They can then analyze it via their own software or convert it into common formats, such as a Microsoft Excel spreadsheet.
Approximately 30 original equipment manufacturers (OMEs) that produce the hydraulic equipment that requires pressure measurement are testing the PT-RF system, or are planning to do so.
"The OEMs tend to appreciate the technology when it can provide a competitive edge over other suppliers," Mette states.
The system was presented for the first time last month at the Hannover Messe Industrial Fair.
"From what we expect," Mette says, "there will be a significant market for end users who will retrofit existing test couplings in their hydraulic system with the PT-RF pressure transmitters." For this purpose, the company is providing a test kit in a rugged plastic case that includes a handheld Stauff reader and a PT-RF pressure sensor, as well as software loaded on the reader.
One of the technology's advantages that Stauff is promoting the most, Mette says, is the time savings related to use, compared with a manual method. "We estimate that a traditional pressure measurement takes approximately two minutes to complete, including the time taken to record the results," he states. "By comparison, a reading with the PT-RF solution takes around 10 seconds."