News
Harvard Museum, Remy Martin and Tulip Theme Park Adopt LabWerk's Beacon Solution
time: 2015-06-16 11:44
The Dutch company is also providing its mApp platform to Oregon's SamplingLab store, Italy's ZOOM Torino Biopark and the Panorama Berlin fashion exhibition.
The Collection of Historical Scientific Instruments (CHSI) at Harvard Universityis deploying a beacon-based system this fall that the museum's director hopes will deliver exhibit information to the smartphones of visitors and prompt them to return for additional visits. The system is provided by LabWerk, a Netherlands-based Bluetooth Low Energy (BLE) solutions provider.
Jean-François Gauvin, CHSI's director of administration and a Harvard lecturer, says he has been looking for years for an app that would enhance the visitor experience. The museum, which charges no admission fee, is small and receives 10,000 visitors annually. Many are Harvard students who use the facility to help with their own research. But the museum is not looking for more visitors per se, Gauvin says. "We're trying to find ways to bring people back," he states, "by better explaining to them what is available." And while they are there, he hopes a beacon solution will make the experience of visiting the museum more enlightening.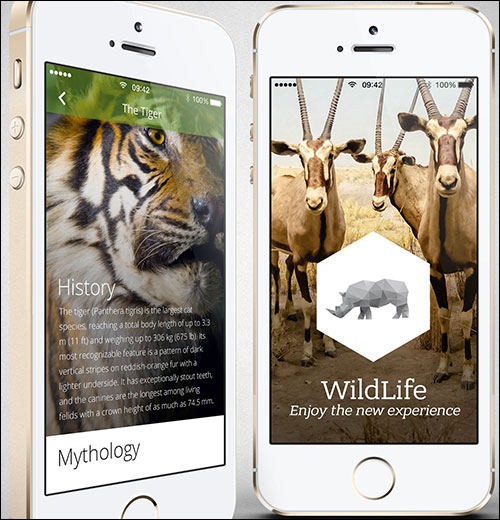 LabWerk and ZOOM Torino worked together to develop the ZOOM Torino app.
The system will consist of approximately 25 Kontakt.io Bluetooth beacons and LabWerk's mApp (Museum App) platform, which comprises a customized iOS-based app (LabWerk will release an Android version later this year) and content-management software. The CHSI deployment is designed to provide context to the artifacts on exhibit. For instance, one exhibit features a scientific instrument that had been collected by Benjamin Franklin in London. A beacon could allow a smartphone or tablet user to learn details of how those artifacts were collected.
Once someone has downloaded the museum app from iTunes (or Google Play once it becomes available in an Android version), using mApp's content-management software operating on a hosted server, that person will be greeted on his or her phone upon nearing the museum. The guest can then view data about the museum itself, specifics in the collection and other content while near exhibits, as well as share that information with friends via Facebook or Twitter. Once the user has received the content, that person can view it later at home, when he or she has more time.
LabWerk was founded in late 2013, says Floris Boekel, the company's CEO, and has since completed about 25 installations around the world in the museum, theme park and retail sectors. The company specializes in custom solutions unique to end users' needs, and provides a variety of beacons to users, based on the requirements of a particular deployment.
For instance, the company has also completed the prototype version of a solution known as Carly, an iOS-based app that provides information to commuters and tourists in their native language or in sign language for any who are having trouble understanding printed signage. A user of the app would come within range of the signage, and that individual's iPhone or iPad would then display a sign-language version of the text printed on that sign. (Some hearing-impaired individuals cannot read text.) This solution is being developed following a request from an academy for the hearing-impaired, and LabWerk is also in discussions with several railroad stations about piloting the system.
LabWerk's first mApp installation, however, was at Holland's Tulpenland, a theme park dedicated to the tulip. Here, Boekel explains, visitors can learn about the flowering plant's history and about specific varieties, and take quizzes or play games via their phones based on what they've learned onsite.
The Tulpenland solution consists of Estimote and Kontakt.io beacons that transmit data to iOS phones (and, later this year, to Android phones) operating the Tulpenland app created by LabWerk. The system, which utilizes LabWerk's content-management software, was taken live in March 2014, and is used by the theme park not only to help tell the story of the tulip beyond the limited amount of text that can be written to signage, but also to identify traffic patterns around the park.
Last year, LabWerk also provided a beacon-based solution, including a custom-made phone app, for cognac company Remy Martin, which is conducting a Europewide marketing campaign to engage younger consumers. Beacons are installed in a mobile exhibit that is parked in cities and provides information about the company's cognac, while also displaying the marketing artwork of college student contestants that promote Remy Martin's products. Visitors are invited to download the Remy Martin app, and as they walk through the exhibit, the beacons trigger the delivery of location-based content, such as video and other information regarding the creative work of each student whose ideas are being considered for the company's future marketing efforts.
Throughout the cities hosting the exhibit, several bars or discotheques are also participating. At each location, Remy Martin installs Bluetooth beacons that send a coupon to Remy Martin app users as they enter that site.
This summer, the technology will be used at Panorama Berlin, a fashion exhibition duringBerlin Fashion Week. The July program includes 33,200 square meters of exhibition space in which apparel companies will show off their products. Here, LabWerk is providing Panorama Berlin with a software development kit (SDK) for Android and iOS devices, as well as 250 Kontakt.io beacons to use the beacon-based location data in the tradeshow's own app. Attendees will be able to download the Panorama Berlin app, so that when they arrive, they will be greeted and an icon on their phone screen will display their location. They can then browse through a list of exhibitors or speakers, Boekel says, and, when they select one, view instructions indicating how they can reach that location from where they are.
In Portland, Ore., the technology is currently being used to assess shopper behavior atSamplingLab, a store that provides new makes and models of products to Millennials at no cost, in exchange for their feedback about what brands they like. Users are invited to share their experiences with a particular product (such as food, a beverage, a personal care item, household goods or a healthy-living item) on social networks to earn rewards as well. With the mApp system, shoppers receive detailed product information based on a tag read, and are also prompted to fill out a survey about their interest in a given product. SamplingLab uses beacon technology with its own app that members download on their smartphone.
Thanks to 20 Kontakt.io beacons installed around the store, shoppers can receive information about the products they are viewing and may wish to sample. This might include details, for instance, about the ingredients in a food item, or whether a personal-care product was made from organic materials, as well as where it was produced. They can then select products they want to try and fill out questionnaires on the app about their experience with it.
SamplingLab can use the collected data to better understand the interests of young potential consumers as well, by viewing where the members spend their time within the store, and thus the kinds of products in which they are most interested, even if they don't take those goods home.
Italy's ZOOM Torino Biopark, a zoo and amusement park, installed the mApp system, along with 55 beacons, two weeks ago to provide its zoo visitors with content and an interactive map. In this case, the 160,000-square-meter (1.7-million-square-foot) park includes beacons at six different habitat environments that trigger content relevant to an app user's location, provide quiz questions, and offer promotional items and discount coupons for use at the zoo store.
The zoo had been seeking a better solution to share content about its range of animals and exhibitions, according to Filippo Saccà, ZOOM Torino's marketing and communication manager, and ultimately selected LabWerk. "We wanted something that could handle a range of content formats," he explains, "and be engaging and be interesting to the younger generation." He adds that "LabWerk's mApp platform seemed to be the perfect fit." The ZOOM Torino deployment, using Kontakt.io beacons, was taken live in early June.
LabWerk and ZOOM Torino worked together to determine the best locations for guests to receive their content. "We deliberately didn't want visitors to spend all their time viewing the content… while standing in the exhibit in front of the animals," Saccà states, "but instead looking at and appreciating the experience we have on offer." To resolve this issue, LabWerk and ZOOM Torino designed the app to deliver content related to a specific exhibit only after a visitor has moved away from the immediate exhibit space.
The data culled from the beacon system also provides ZOOM Torino with analytics. "We are beginning to get some insights into traffic flows throughout the park," Saccà says. In that way, the zoo can better identify high-traffic areas, as well as the content and exhibits that are most popular to visitors.