News
RFID News Roundup
time: 2015-06-19 08:20
IDTronic intros new industrial UHF readers with integrated antennas ••• Netherlands' Groninger Museum launches beacon-enabled app ••• Tadbik shoe tags kept time at the Nike Women's 5K in Istanbul ••• GuardRFID adds temperature measurement, other features to TotGuard solution ••• Palex unveils redesigned smart cabinet for hospital supplies ••• Royal Caribbean's Anthem of the Seas adopts ASSA Abloy RFID wristbands, locks.
By Beth Bacheldor
IDTRONIC INTROS NEW INDUSTRIAL UHF READERS WITH INTEGRATED ANTENNAS
IDTronic has announced a new ultrahigh-frequency (UHF) reader with an integrated auto-tuning antenna that is suitable for industrial and outdoor environments. The new Bluebox CX-AVI and CX-AVI LR readers are equipped with Ethernet and RS232/RS485 interfaces for a flexible and low-cost installation, according to iDTronic, and works well for parking, waste-management, forklift and logistics applications.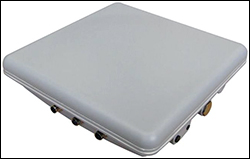 iDTronic's CX-AVI LR reader
The devices support the ISO 18000-6C and EPC Gen 2 standards, are made of die-cast aluminum and plastic, and feature an IP 65 rating, meaning they are dust-tight and protected from splashed water. They deliver up to 27dBm in power output, which can be regulated through software commands. The CX-AVI measures 190 millimeters by 190 millimeters by 80 millimeters (7.5 inches by 7.5 inches by 3.1 inches) and supports a reading distance of up to 8 meters (26 feet), while the CX-AVI LR measures 308 millimeters by 308 millimeters by 85 millimeters (12 inches by 12 inches by 3 inches) and supports a reading distance of up to 10 meters (33 feet). Both versions are available for the ETSI or FCC frequency band and support iDTronic's Bluebox software developer's kit (SDK), which includes a demo tool forMicrosoft Windows XP, Windows 7 or Windows 8. There is also programming information for C# and C++, as well as a serial command protocol.
NETHERLANDS' GRONINGER MUSEUM LAUNCHES BEACON-ENABLED APP
Groninger Museum, a modern and contemporary art museum in the Netherlands, has launched a new, beacon-enabled mobile app in conjunction with the opening of a new exhibition, "Song Dong, Life is Art, Art is Life." The museum app is the first implementation of a new platform called Tapart, developed by Tapme Media, also in the Netherlands.
The mobile app presents information about artwork and sections of the museum as visitors walk around the Groningen facility and "tap" their smart devices to beacons that employ Bluetooth Smart technology. The Bluetooth beacons, supplied by Estimote, direct the mobile app to access and display specific Web content to visitors. The signal can be detected by a compatible smart device (iOS 7 and higher or Android 4.3 and higher).
The museum app is available for download at Google Play and iTunes.
TADBIK SHOE TAGS KEEP TIME AT THE NIKE WOMEN'S 5K IN ISTANBUL
Israeli labeling solutions company Tadbik Advanced Technologies has announced that its passive ultrahigh-frequency (UHF) RFID shoe tag and related RFID equipment, all compliant with the EPC Gen 2 standard, was used to keep time for the recent Nike Women's Run Istanbul 5K, which featured approximately 2,500 women and is part of a Nike worldwide race series.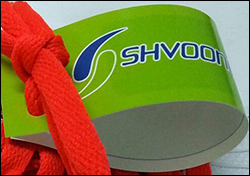 Tadbik shoe tag
The event was timed by means of Tadbik's RFID-enabled shoe tags and RFID Race Timing Systems' Ultramats, modular antenna mat systems that are designed for sporting events, according to Michal Yanuv Max, Tadbik's sales and marketing director. The mats measure 1 meter (3.3 feet) in length by 0.55 meter (1.8 feet) in width by 20 millimeters (0.8 inch) in thickness, feature a special non-slip surface and are tough enough to handle trucks driving over them, the company reports. The entire RFID timing system at the Istanbul race was managed viaRaceTec software. The durable Tadbik shoe tag featured a Smartrac DogBone Monza 4D paper inlay encoded with a runner's number and printed with that number and application instructions. The shoe tag was branded with the Nike Women's Race logo, Yanuv Max says, and runners tied the tags to their shoelaces.
In addition, three RFID-powered kiosks were used at the event venue to display individual results. The kiosks featured proprietary software designed to access the RaceTec database, as well as FX7500 readers made by Zebra Technologies (formerly Motorola Solutions' RFID division).
The RFID system at the race successfully read 15,000 splits and was well received by the participants, Tadbik reports. In addition, the firm notes, Nike organizers were pleased by the attendance, the smooth operation and the accurate results, and said they look forward to offering this event in Turkey again next year.
GUARDRFID ADDS TEMPERATURE MEASUREMENT, OTHER FEATURES TO TOTGUARD SECURITY SOLUTION
Guard RFID Solutions, a provider of 433 MHz active RFID and real-time locating system (RTLS) technology, has announced a new release of its TotGuard Infant and Pediatric Security solution.
Some of the major functionality that has been added to TotGuard includes real-time temperature monitoring and management using GuardRFID's temperature-sensing tags, as well as by employing hardwired temperature sensors within the TotGuard infrastructure. The new Temperature Management feature reports on ambient temperature as well as the temperature of the infant upon whom the tag is placed, says Zahir Abji, GuardRFID's president and CEO. The temperature sensors are fully encapsulated within a tag, explains Dalibor Pokrajac, GuardRFID's executive VP of engineering, and most of the tags are ultrasonically welded, thereby ensuring complete water resistance. Temperature levels are reported at regular intervals, or instantly if the temperature changes by more than 2 degrees since the prior report. "Earlier versions of TotGuard offered temperature sensing, but not for measurement of temperature," Abji adds. "Instead, the sensing was used for detecting a tag tamper attempt by sensing light and sudden change in temperature to declare a tag being removed from an infant."
The new version of TotGuard also includes mobile apps with a full graphical user interface (GUI) for the Android and iOS operating systems, enabling personnel to monitor and manage the system and receive instant alarm notifications, even when they are away from their desk. A revamped GUI includes several new features, such as a tag battery gauge that shows the state of the battery's power, enables the sorting of patient lists, and displays different tag icons for different types of tags, among other functions.
According to Guard RFID, improvements in real-time location include support for detecting the direction of movement at a portal to provide more accurate reporting of patients, assets or staff members entering or departing from an area. Area or room utilization reports provide details of which patients or assets have occupied a specific area, as well as for how long, and can be set for various rules that improve facility utilization. The new version is compliant with the IHE PCD MEMLS protocol, which enables the sending of patient and asset location event data to all hospital systems that can communicate via the HL-7 protocol, such as emergency medical response (EMR) systems, alarm-monitoring systems, pump and VSM software, and so forth.