News
RFID News Roundup
time: 2015-08-04 17:29
Beta Layout receives UL certificate of compliance for embedding RFID in PCBs ••• Feig announces availability of cVEND contactless-payment systems ••• Balluff upgrades BIS V industrial RFID system ••• researchers create 3D-printed smart milk cap ••• Embarcadero unveils BeaconFence zone-management software for developers.
By Beth Bacheldor
The following are news announcements made during the past week by the following organizations: Beta Layout; Feig Electronics; Balluff; the University of California Berkeley, the National Chiao Tung University; and Embarcadero Technologies.
BETA LAYOUT RECEIVES UL CERTIFICATE OF COMPLIANCE FOR EMBEDDING RFID IN PCBS
Beta Layout, a German company specializing in rapid printed-circuit board (PCB) prototyping services, has announced that it has obtained a certificate of compliance fromUnderwriters Laboratories (UL) for its Magic-PCB technology, which incorporates a passive ultrahigh-frequency (UHF) RFID chip into a PCB. The UL certificate of compliance indicates that the technology meets U.S. safety standards for electronic products, according to Beta Layout. Specifically, the certificate indicates that the company's single-layer printed wiring boards with embedded components have been found by UL to be in accordance with the following standards for safety: the UL 796 standard for printed-wiring boards and the CAN/CSA-C22.2 No. 0.17 standard for polymeric materials used in electrical equipment.
Beta Layout's embedded RFID technology was patented in the United States in 2013. The technology embeds Murata's MagicStrap UHF RFID modules into PCBs and can be used for all types of electronic devices, such as mobile phones, industrial control, and test and measurement equipment (see Murata, Beta Layout Collaborate on Kit for Incorporating RFID Chips on Printed-Circuit Boards). Embedding an RFID module into the PCB ensures that every PCB is identifiable from the cradle to the grave, without the need for bar codes and line-of-sight readings.
The Magic-PCB technology is available for prototype PCBs and in small volumes using Beta Layout's PCB-POOL service. High-volume production is also possible under license using a specially developed application machine.
FEIG ANNOUNCES AVAILABILITY OF CVEND CONTACTLESS-PAYMENT SYSTEMS
Feig Electronics has announced the availability of its new cVEND contactless-payment systems designed for consumer purchasing and integration in the validation terminals of buses and trains, onboard computers and ticket gates.
The cVEND system provides open-loop ticketing for check-in and checkout functionality by employing contactless credit cards, according to the company, and devices can be used in parallel for each form of closed-loop ticketing, utilizing classic RFID tickets purchased before departure (see Feig Electronics Debuts cVEND, a Secure Contactless Payment and Ticketing System). Feig's cVEND RFID readers work with contactless credit cards (providing "tap-and–go" payment without the need for a signature or PIN), Near Field Communication (NFC)-enabled smartphones with payment apps, and contactless tickets (such as VDV-KA, ITSO and Calypso).
The RFID readers are available in three variants: the cVEND plug, which can be seamlessly integrated into validation terminals; the cVEND box, which can be mounted in any kind of metallic kiosk-type systems, terminals and ticket gates; and the cVEND box+, which includes a display. Each is certified according to EMVCo Level 1 and Level 2, as well as PCI PTS 4.x. Users can choose between two integration methods, either running their own applications on the controller with the Linux version, or with cVEND as a transparent reader using their own controller.
"cVEND is ideal for both stationary ticketing machines or open-loop ticketing with check-in and check-out functionality on buses and trains," said Michael Hrabina, Feig's executive VP, in a prepared statement. "Payments are quick and easy with contactless credit cards, NFC-enabled smartphones or a 'tap and go' payment bracelet like the new PureWrist."
PureWrist, a startup based in New York, recently launched its eponymous bracelet, which contains a contactless prepaid, reloadable MasterCard debit card that uses NFC RFID technology. The bracelet is supported by an online platform that allows users to manage their personal accounts, track spending and load funds onto the card. A portion of all proceeds from the sale and usage of PureWrist bracelet are shared with charities. The company is currently running a 30-day Indiegogo campaign to raise funds for mass production and shipment of the product, with 20 percent of the net profit going to theLeukemia & Lymphoma Society.
BALLUFF UPGRADES BIS V INDUSTRIAL RFID SYSTEM
Balluff, the U.S. subsidiary of Germany's Balluff GmbH, has released a new version of its BIS V industrial RFID system. Capable of reading three different frequencies of RFID tags, the system now includes support for a BIS C (70/455 kHz) read-write head, in addition to BIS M (13.56 MHz), BIS L (125 kHz) and BIS VM high-speed read-write heads, which are capable of reading 128-kilobyte 13.56 MHz tags very quickly, according to Balluff. BIS V is designed to address the challenges of a flexible manufacturing environment, the company reports.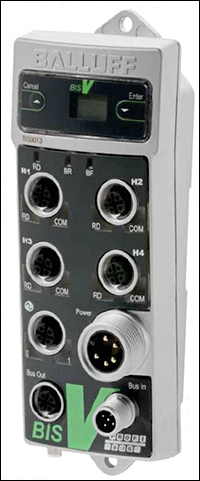 Balluff's Bis V processor
The Balluff BIS V processor features an IP 65 rating, meaning that testing has confirmed it to be dustproof and waterproof, and it can be mounted directly on a production line instead of employees having to make long runs back to a control cabinet. The processor has four dedicated RFID ports and one IO-Link master port, enabling it to connect with sensors, actuators and SmartLight tower lights. The four read-write heads can operate simultaneously, and each connected read-write head indicates its status and operating state via two LEDs. The multiple heads were designed to address applications in which a part or pallet must be read on-the-fly, Balluff explains, since they can transfer a relatively large amount of data very quickly. In addition, there are multiple form factors available that allow mounting in the tightest of spaces.
The BIS V can connect to all major control systems. Since the processor houses a network In and Out port, the company says, the network can be configured in multiple topologies and make a single connection back to the PLC via Ethernet/IP, Profinet, Profibus, CC-Link or Ethercat.
"The BIS V is like the Swiss Army Knife of RFID," said Wolfgang Kratzenberg, Balluff's marketing manager for industrial identification, in a prepared statement. "Our customers will be able to address a variety of applications with one system. Whether it is standard pallet tracking on a conveyor, high-speed tracking through a transfer system, or machine tool identification, they will be able to do it all and then some with the BIS V."
RESEARCHERS CREATE 3D-PRINTED SMART MILK CAP
Several University of California Berkeley engineers, in collaboration with colleagues at Taiwan's National Chiao Tung University, have created a prototype of a 3D-printed smart cap for milk cartons that is designed to wirelessly monitor the freshness of the milk products. The smart cap uses 3D-printed plastic with embedded RF passive circuit electronics and can be used to wirelessly monitor the quality of liquid food (milk and juice, for instance).
According to a recent article published in Microsystems & Nanoengineering, the researchers used a 3D printer to make a smart milk-carton cap fitted with a cone-shaped capacitor and a flat spiral-shaped inductor. Together, the two electrical components formed a resonant circuit known as an inductor-capacitor (LC) tank. The cap was screwed onto a carton of fresh milk, which was briefly turned upside-down so that some of the liquid became trapped between the capacitor's upper and lower electrodes. The carton was then stored at room temperature—22 degrees Celsius (71.6 degrees Fahrenheit)—for 36 hours. Another carton of fresh milk was similarly fitted with a smart cap and stored at 4 degrees Celsius (39.2 degrees Fahrenheit).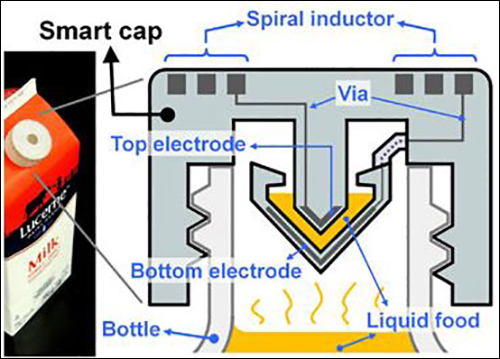 The researchers used a wireless inductive reader to monitor the LC tank's resonant frequency in real time. As the milk trapped inside the capacitor gap began to spoil, the value of the LC tank's resonant frequency began to drop. When a carton of milk was stored at room temperature for 36 hours, the printed sensor's peak resonance frequency dropped by 4.3 percent. In comparison, a carton of milk kept in refrigeration at 4 degrees Celsius saw a relatively minor 0.12 percent shift in frequency over the same time period.
According to the researchers, the preliminary results from testing the prototype smart cap "demonstrate the good consistency of these 3D-printed devices with the analytical expectations and indicate the possible performance enhancements and system integration based on the 3D structures." The positive results, the authors note in their article, indicate that "3D devices with embedded metallic components can open up a new class of applications in devices (beyond the passive wireless sensors) that benefit from 3D structures with embedded metallic conductors."
EMBARCADERO UNVEILS BEACONFENCE ZONE-MANAGEMENT SOFTWARE FOR DEVELOPERS
Embarcadero Technologies, a provider of software solutions for application and database development, has introduced BeaconFence, its beacon-based user-location and zone-management software for developers. With BeaconFence, Embarcadero reports, developers can now provide a solution that uses off-the-shelf beacons to achieve high-precision tracking of users, indoors or outdoors, via standard Bluetooth-enabled smartphones and tablets that individuals already carry.
Designed to make it easier for developers and independent software vendors to add interactive user and device proximity support to iOS, Android, Microsoft Windows and OS X applications, BeaconFence can be employed in a range of applications, the company explains, and is particularly suited for retail, health-care, entertainment and manufacturing applications.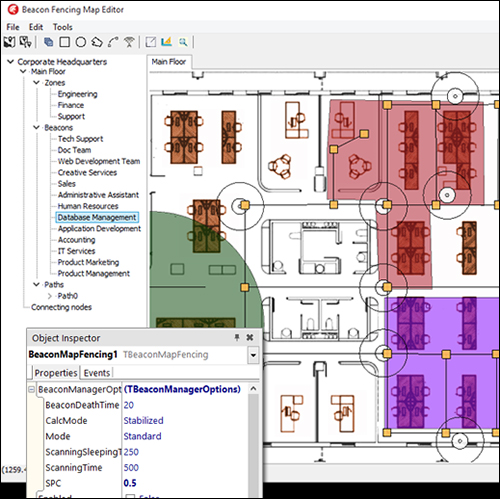 According to Embarcadero, BeaconFence enables the development of highly interactive applications that utilize end-user, customer or device proximity to or within any physical location, building or object. The software works with Bluetooth Low Energy (BLE) beacons complying with Apple's iBeacon specification and AltBeacon, authored by Radius Networksas an open, interoperable specification for beacons. It supports simple radial zones, as well as polygonal zones of virtually any shape or layout. According to Embarcadero, developers simply import a blueprint, bird's-eye photo or drawing of the physical location layout, visually place beacons, and draw zones. BeaconFence then provides user or device location tracking, the firm adds, including zone enter or exit events. The software also supports Delphi, RAD Studio and C++Builder (with support for Visual Studio, Xcode, Java and Xamarin coming soon).
BeaconFence is available now from Embarcadero and its partners. A free developer edition is available at www.embarcadero.com/products/beaconfence.