News
TESCO'S F&F DIVISION, SML GROUP PARTNER TO DEPLOY RFID FOR IMPROVED INVENTORY ACCURACY
time: 2015-08-14 17:21
SML Group, a provider of RFID labels and software to fashion brands and retailers, has announced details regarding the role that it has been playing to help Tesco's F&F clothing division adopt ultrahigh-frequency (UHF) EPC Gen 2 RFID technology and improve inventory accuracy.
According to SML, when F&F's RFID project began in 2013, SML was nominated to provide the majority of the company's RFID labels. The RFID label company set up a network of production sites to supply the key garment-sourcing regions, including China and Turkey, in order to deliver over 100 million RFID labels during the first 12 months. SML also made its RFID center in the United Kingdom available to F&F to carry out complete solution testing (including RFID labels, software and hardware).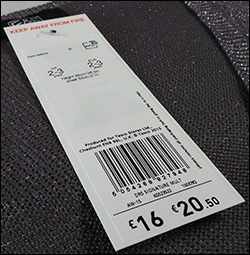 The F&F Tesco-SML RFID label
"This allowed the brand to efficiently evaluate a range of products and simulate in-store testing," said Terry Kemp, SML's senior director of RFID for Europe, the Middle East and Africa (EMEA), in a prepared statement, "without causing disruption at any of its trading stores."
SML worked with F&F in several other areas of project as well, such as helping the retailer to develop an online ordering platform to fulfill the specific requirements of the F&F garment vendor base. In addition, SML reports that it developed an RFID in-plant solution for printing and encoding RFID labels at the F&F distribution center. F&F is now RFID-tagging all of its merchandise sold at Tesco's network of 525 stores throughout the United Kingdom.
The RFID system will help the stores replenish shelves daily, according to SML, thereby improving customer service by offering a greater selection of products and sizes. The RFID solution will also help F&F track stock levels throughout its supply chain, SML adds, and improve the efficiency of the new Click and Collect program, by which customers may place an order online and then pick it up in a Tesco store.
In June 2015, Tesco announced that it was trialing an indoor mapping and analytics robotic system using RFID within its fashion departments at five U.K. stores, tracking its F&F brand garments to determine whether the technology can improve efficiency and inventory visibility (see Tesco Deploys Tag-Reading Robot at Five Stores to Track F&F Clothing).