News
Brazil's Von Braun Labs Brings New Secure UHF Chip, Solutions to U.S.
time: 2015-05-27 14:10
The new 2014B IC, designed for tolling applications, supports 128-bit encryption and, the company says, the ability to be read at highway speeds.
Brazilian RFID research and development company Von Braun Labs has begun marketing its products and services, including a new secure passive ultrahigh-frequency (UHF) chip, in the United States and other regions of the world. The company hopes that businesses will use its software platforms and the new chip, which is based on the EPC Gen2v2 standard, to provide a relatively low-cost, passive and secure EPC UHF-based vehicle ID tag, as well as a full solution.
Von Braun's new automatic vehicle identification (AVI) transponder chip, the 2014B, includes a security layer using AES 128-bit encryption. When incorporated in a windshield tag, it is designed to be read as vehicles pass through tollbooths or through free-flow portals at highway speeds. The AES encryption consists of a dynamic challenge-response protocol with each RF transmission, so that a tag ID number cannot be cloned and reused, and its transmitted or received data cannot be "sniffed" or disclosed.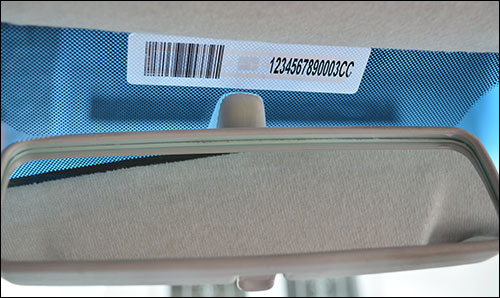 Von Braun's new chip, the 2014B, is designed to be incorporated in windshield tags that can be read at highway speeds, while supporting 128-bit encryption.
The new AVI chip, containing 448 bits of non-volatile memory, is being used by one customer—a toll service provider in Brazil—but Von Braun Labs is now making it commercially available in the United States and other countries around the world. Dario Sassi Thober, Von Braun Labs' CEO, says that since his company opened an office in San Jose, Calif., it has also been in discussions with three large RFID technology providers that might use the chip for automotive ID labels.
In 2012, Von Braun Labs developed another passive chip for a specific customer, to address a national program known as Brasil-ID. This older 1-kilobit chip can be used for tracking containers or other objects, as well as for use in ID badges worn by individuals to identify their movements around an area in which RFID readers are deployed. The older chip employs the same AES encryption technology, but is designed to read and encode tags in pallet-like grouping applications.
Von Braun Labs is partnering with Malaysian silicon chip foundry SilTerra, which will manufacture integrated circuits based on Von Braun Labs' design. Tolling service providers and systems integrators that develop RFID-based solutions will not buy the 2014B chip directly from Van Braun Labs, but rather would purchase the chips or other essential parts of the label from SilTerra, or from other foundries and manufacturers.
"Usually, a semiconductor company operation represents a step further in the chain, with the foundry acting as a contractor," Thober says. "From the standpoint of service providers or operators, it represents a kind of short-cut to lower costs." He adds that Von Braun Labs offers a whole solution "with the aid of our partners and our own systems integration."
The company has other industrial partners as well, Thober says, such as Xiamen Innov Information Technology Co., which provides software integration and full solutions in partnership with Von Braun Labs. It also works with CISC Semiconductor, an Australian company that provides its products and engineering services for designing RFID products sold by Von Braun Labs. Finally, IRIS Trusted Certification, a Malaysian systems integrator and solution provider, is working with Von Braun Labs on solutions in that country.
Thober believes it would be cheaper for a company to buy the new 2014B chip directly from a foundry, rather than from a semiconductor firm. Von Braun Labs is also capable of making finished RFID labels with the 2014B chip at a competitive price. To do so, the company partners with inlay providers that can supply these products and all other systems required for AVI operations.
The new AVI 2014B chip was developed as a solution to two impediments to adoption for toll collection and automotive identification via RFID, says Arthur Henrique César de Oliveira, Von Braun Labs' design manager: the high cost of tags and security vulnerabilities. Existing passive tags for automotive ID purposes cost about $4 apiece in Brazil, but do not offer any security when the tags are interrogated, and an eavesdropper could thus capture a tag's ID number during transmission and clone that tag. On the other hand, battery-powered tags come with greater security but cost even more—usually around $10 to $15 each.
For toll service providers in Brazil, this can prove too expensive if they are providing thousands of tags to motorists in their service area.
Despite the high costs of the semi-active and previous passive tags, the adoption of RFID-based electronic toll collection has expanded in Brazil. Initially deployed only in São Paulo, the technology is now being installed within all of the country's 26 states (under an official program regulated and developed by the Brazilian National Agency for Terrestrial Transportation), says César de Oliveira, with a variety of kinds of interoperable solutions involving tag and reader vendors, as well as software integrators, participating in the rollout. The system enables the collection of vehicle IDs without operators having to slow down while driving through a tollbooth.
Brazilian toll service providers began supplying semi-passive UHF 915 MHz toll tags to vehicle owners in 2012. Service providers are expected to see the cost of their infrastructures lower as a result of the new secure passive tags, Thober reports.
In addition, Thober says, automotive insurance companies are beginning to consider business models in which vehicle manufacturers in Brazil would incorporate a low-cost passive UHF RFID label into each vehicle so that the car can be uniquely identified via a reader—not just for toll collection, but also for registration and parking applications and or for identifying a stolen vehicle.
Von Braun Labs also coordinated the Brasil-ID project and provided its passive UHF chip to track the movement of cargo, such as food, electronics, pharmaceuticals and cigarettes, through the supply chain. In November 2014, several transportation companies began using the RFID technology to identify trucks and their cargo at key points in their journey through Brazil, including using the electronic tolling RFID readers already installed for toll collection.
In the future, Von Braun Labs intends to focus its efforts on building software solutions. As hardware with advanced security becomes less expensive, he predicts, RFID use cases will be found in industries and parts of the world in which it has previously been less feasible. "Our focus is on changing the dynamics of the RFID industry," Thober states, "not just for vehicles but, really, tracking everything." He suggests that if a company uses ultra-low-cost reading devices (such as a dongle reader with a smartphone or tablet) to interrogate tags, for instance, the cost of an RFID implementation would be accessible to multiple applications.
In the future, Thober predicts, low-cost RFID readers could be installed in appliances, lamp sockets, cars or other equipment that could make RFID tag reading more ubiquitous. Meanwhile, security such as AES encryption would still protect the privacy and security of each RFID tag's owner.
"There are huge gaps to be filled," Thober says. He points out that vehicles, electronics, pharmaceutical products and many other items already come with a label, so simply adding an RFID inlay to those labels would lower the implementation cost far beyond use in vehicles. In other cases, he adds, RFID tags in other shapes and forms can be built as a part of the product, so that the cost of a large-scale RFID application would be further reduced.
Von Braun Labs is not the only company that is marketing a secure IC designed in accordance with GS1's Gen2v2 UHF RFID standard. Last month, NXP Semiconductorsannounced that its new Ucode DNA chip, which is designed to transmit a dynamic, encrypted password preventing a tag from being read without authorization, while also precluding it from being cloned (see NXP Releases IC for Secure Encrypted UHF Reads). The Ucode DNA IC, which comes with 3 kilobits of memory, is intended for such applications as electronic road tolling, vehicle registration, access control, asset tracking and brand protection, as well as for parking and vehicular license-plate authentication.
Currently, several U.S. tolling agencies are using passive EPC Gen 2 tags (see Efforts to Aid Adoption of ISO 18000-6C RFID for Toll Collection Move Forward). However, theInternational Bridge, Tunnel and Turnpike Association (IBTTA) is seeking to establish a single tolling standard technology, and the outcome of that work might lead to an expansion in the use of passive EPC Gen 2 tags for tolling purposes. The IBTTA's National Toll Interoperability (NIOP) Committee plans to test various RFID technologies this year. The group is reviewing technology based on ISO 18000-6C (essentially the same standard as EPC Gen 2) and ISO 18000-6B (another passive UHF tag standard that has a proprietary air-interface protocol), as well as active RFID tags, such as those being used by Northeastern toll operators belonging to the E-ZPass Interagency Group (IAG), explains Dave Kristick, a member of the NIOP committee. The goal is for the NIOP committee to evaluate the tests results and then recommend a national protocol standard for IBTTA's board to accept by next March, and for IBTTA members to implement by October 2016.
Kristick is also a member of the 6C Toll Operators Committee (6CTOC), a consortium of five toll-collection agencies that use ISO 18000-6C tags and are seeking to encourage all agencies to adopt the technology standard as at least one standard that its RFID readers can read. That would make the use of a 6C tolling tag universal, no matter where a driver drives his or her car. Multiple other agencies have signed on to become non-voting members of the 6CTOC, affording them a view into decisions being made by the group, according to Tyler Patterson, 6CTOC's president. The NXP DNA chip that also features AES security is a 6CTOC-certified chip, he says, while Von Braun Labs' 2014B chip has not yet been tested by the 6CTOC.
Thober notes, however, that Von Braun Labs' chips and solutions "have the AES encryption mechanism implemented according to ISO 18000-6C as custom commands according to the specifications—not only proven by the tests performed at CISC, as well as by working with certified ISO readers from all vendors already in use in Brazil."
In any event, Patterson reports that security in tolling may not be as great a concern for U.S. drivers as it is for those in Brazil, adding that of greater concern would be that a tag can be reliably read at high speeds. Patterson says he is concerned that the security layer might affect the speed at which tags are read. However, Thober indicates that when used for tolling, tags made with its 2014B chip can be interrogated at a rate of 80 to 100 per second.