News
MARTRAC UNVEILS MIDAS+ NFC INLAY DESIGNED FOR GAMING
time: 2015-05-29 14:29
Smartrac has announced its Midas+, a Near Field Communication (NFC) inlay designed for products with space restrictions—such as toys, collectible cards, electronic gadgets and other accessories—that benefit from authentication.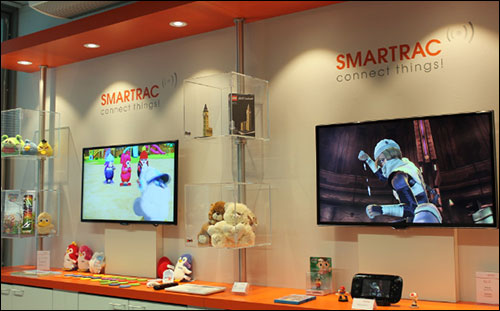 Smartrac's Tap and Play Demo Area
The new inlay is made with NXP Semiconductors' NTAG213 chip, which debuted in 2012 (see NXP Releases New NFC Tag Chips for New Applications). The NTAG213 has 144 bytes of memory and features unique ID (UID) mirror functionality, enabling the chip's serial number to be mirrored as part of its encoded URL address. The mirroring function allows a company to determine which tag is being read by a consumer's smartphone or other RFID-reading device, thereby enabling analytics regarding the use rate of any specific tag and its location. Without mirroring, a company has no way of knowing which tag was used to access a URL. Mirroring, however, allows a tag to be encoded not only to direct an NFC-reading device to a specific URL, but to do so with its own unique serial number, so that a record can be maintained of which specific tag was used.
With a die-cut size of 13.5 millimeters by 21 millimeters (0.53 inch by 0.83 inch) and an antenna size of 11.5 millimeters by 19 millimeters (0.45 inch by 0.75 inch), Smartrac reports, Midas+ is suited for electronics and gaming applications for which inlays need to be embedded in very limited space. A new antenna design, made from aluminum, has increased the inlay's reliability and performance, the company says.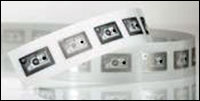 Smartrac Midas+
Midas+ NFC inlays are based on the ISO 14443 A standard, and are also compatible with NFC Forumstandards. The inlays, which come in wet inlay format by default, are available now.
Smartrac also announced that it has opened its Tap and Play – Global Experience Center in Tampere, Finland. Run in cooperation with partners likeCartamundi, NXP Semiconductors and Twinsprite, the facility is designed to be a global knowledge center dedicated to the use of NFC technology in mobile gaming, Smartrac explains.
According to Smartrac, mobile games will grow to account for one-third of the global games industry in 2015, making it that sector's fastest-growing segment, based on market findings from Newzoo Research, and the global mobile market reached $24.5 billion in 2014. NFC technology is increasingly contributing to that development, according to Smartrac, as it bridges the gap between video and mobile games and the physical world in an effortless and exciting way. NFC-enabled physical toys and collectibles can act as active elements in console and mobile gaming.
The Tap and Play – Global Experience Center demonstrates the latest technologies and state-of-the-art use cases, with the latter focused on monetizing models for gaming. It features a demo installation of Twinsprite's NFC toy management platform (see Twinsprite Uses NFC RFID to Link Toys to Game Apps), plus several demonstrations supplied by industry partners like Calm Island, Cartamundi (see Smartrac Sees RFID's Future in the Cards, the Clouds and the Cosmos), NXP, Parrot and others. During the grand opening on May 26, the center also illustrated its secondary purpose, as professionals from around the toy and gaming industry met with independent game developers from Scandinavia in order to share creative ideas and know-how.