News
Identiv Offers NFC RFID Temperature-Tracking Solution
time: 2015-06-04 13:58
The system—consisting of the disposable uTrust Sense Temperature Tracker tag and an app for Android smartphones and tablets—is designed to serve as a low-cost data-logger.
Identiv has released an Android app that works in conjunction with the company's uTrust Sense Near Field Communication (NFC) temperature-sensing RFID tag. The uTrust Sense app, which became available this week at the Google Play website, can be used to activate and configure Identiv's uTrust Sense Temperature Tracker, and to read its recorded temperature readings. The battery-assisted passive sensor tag and the app are aimed at making the collection of temperature history as simple as using an Android smartphone or tablet.
Traditionally, tracking the conditions to which perishable food items are exposed as they travel from the field, factory or farm to the store involves a wired or battery-powered data logger that is accessed only when those products reaches their ultimate destination. Such a data logger, however, can be expensive, and will not automatically transmit data to a server when interrogated.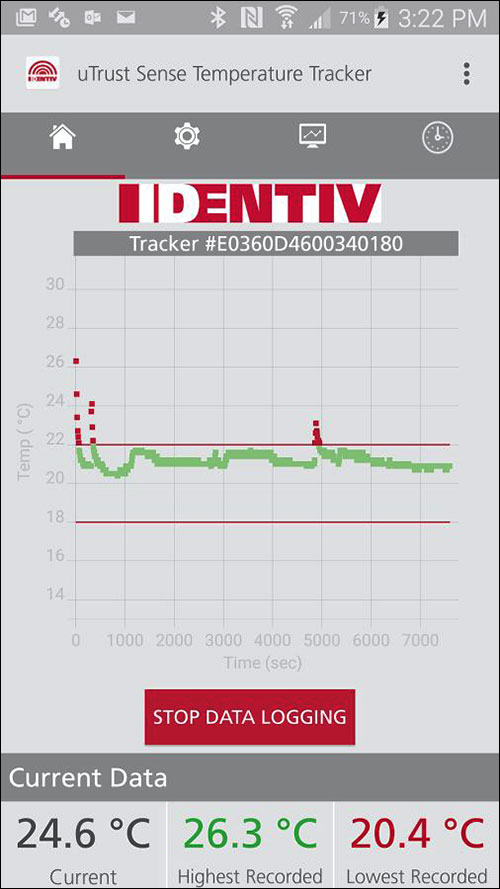 Identiv's uTrust Sense app, installed on an Android device, can be used to access the uTrust Sense Temperature Tracker tags' temperature readings.
Identiv feels that it has crossed a cost barrier with its uTrust Sense solution, making the remote monitoring of temperatures affordable no matter where the product may be—for instance, in a truck, a factory or a warehouse. What's more, the company is in the process of developing additional uTrust Sense tags that could measure other conditions, such as shock or humidity.
During the past year, Identiv launched a research-and-development unit known as Identiv Labs, dedicated to designing platforms for customers that go beyond simply tags and labels, says Phil Montgomery, Identiv's chief product officer.
"We didn't see solutions that would capture and record sensor data to track the freshness of products from point A to point Z," Montgomery says, "while leveraging current mobile devices already in consumers' hands." Therefore, the lab began building a solution that would combine Identiv's standard passive high-frequency (HF) RFID tags with sensors, designed to be low enough in cost to be thrown away after a single use. In addition to developing uTrust Sense, the lab is working on solutions such as an NFC-based anti-counterfeiting system, which has not yet been released.
The uTrust Sense solution consists of a waterproof uTrust Sense Temperature Tracker tag and the uTrust Sense app for Android mobile phones or tablet readers. The tag is about the size of a credit card and comes with an adhesive backing, so it could be attached to, for instance, the side of a single carton within a shipment of goods. It is designed to be thrown away after one journey in-transit. The tracker is made with an Identiv HF 13.56 MHz RFID tag compliant with the ISO 15693 standard, as well as a temperature sensor, a thin, flexible battery and sufficient memory to store up to 762 temperature readings, according to Stephane Ardiley, Identiv's product marketing manager. Identiv can also print the tag's plastic exterior with text and a logo, if so requested by a customer.
Ardiley says Identiv opted to develop the solution around the ISO 15693 standard, rather than the NFC Forum's current specified standard (ISO 14443), because ISO 15693 enables a longer read range and can be interrogated by most NFC-enabled phones and tablets, as well as by standard HF RFID handheld readers. (To use a standard HF RFID handheld to activate, program and read the uTrust Sense tag, a customer would first need to install software from Identiv. Such software is not yet available, however.)
Customers can purchase the uTrust Sense tags, which cost about $10 apiece for low-volume orders, but less for larger volumes. They can then store them for a period of time without draining the battery, Ardiley says, since the tags remain dormant until the first read activates them. Once a tag is activated via the uTrust Sense app, a user can configure that tag's settings, including how often it should take measurements (frequencies ranging from every five seconds to every nine hours are possible). The user can also configure the tag to transmit an alert based on preset thresholds of high and low temperatures.
The tag's battery life depends on how often those measurements are taken, but it is expected to last for the length of a shipment—typically, 30 to 90 days. If the battery dies before the user is finished using it, an NFC reader could still be employed to collect all sensor measurements stored up to the moment when the battery expired.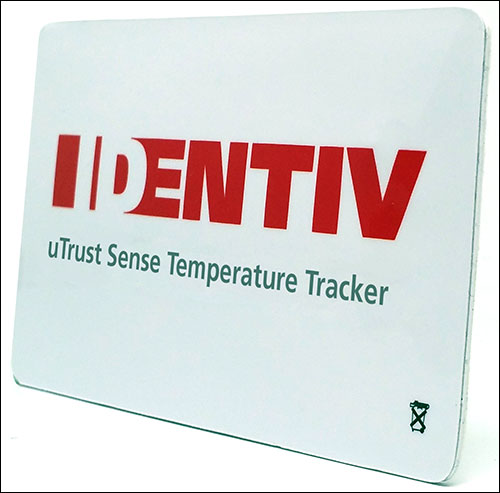 The uTrust Sense Temperature Tracker tag is about the size of a credit card.
If the quantity of temperature readings stored in the tag's memory exceeds the maximum of 762, the tracker can be configured to begin erasing and rewriting data, beginning with the oldest measurement.
Individuals could then read the tag's temperature data at different points along the supply chain. A truck driver could read the data upon dropping off or picking up a product shipment at a distribution center, and a retail-store worker could do so at the receiving dock.
Several months from now, Identiv expects to release a software development kit (SDK) that will include a standalone application to enable a user to employ an HF reader (compliant with the ISO 15693 standard) to activate and configure the uTrust Sense tag, as well read and manage the collected temperature data. Sometime in the future, Identiv may also offer a cloud-based solution by which data would be available on a hosted server. Once the company releases the cloud-based version of the system, users could sign onto the server to access data about the read events and the temperature data collected at those times. The solution could also record the GPS locations of the NFC-enabled phones or tablets used to read the tag and collect its temperature data, if a user so chooses.
Montgomery says that one product manufacturer has been using tens of thousands of uTrust Sense tags, in conjunction with an app custom-developed by Identiv, to track temperature-sensitive goods that have a fairly short shelf life. He reports that several other companies that have expressed an interest in the technology as well, including some in the health-care market for tracking medical and pharmaceutical supplies. In addition, the uTrust Sense tag could be modified so that it could be worn against a person's skin, in order to monitor body temperature. In industrial environments, Ardiley says, the uTrust Sense tag can be used to oversee any temperature fluctuations within a room or building in which temperature controls are critical. "You can affix it to almost anything," he states.